Thursday, October 21, 2010 at 8:37PM
I hate this fluffy thinking that divides medicine into "alternative medicine" and "Western medicine". Rubbish. "Alternative medicine" just means medicine that has either a) not been proven to work, or b) has been proven not to work. Anything that works is evidence-based medicine, or (as we call it in the trade) "medicine". Traditional medicines from around the world have been tested, and the ones that actually work get incorporated. Yes, willow bark actually helped with headaches, hence aspirin. Yes, cinchona bark actually worked for fevers, hence quinine. Others didn't work, such as the stupid habit of opening the veins of people and bleeding them out for food poisoning, raping virgins to cure HIV or eating crushed tiger bones for male impotence. Medicine gets better and better every year, because it incorporates every therapy that works, whatever the source. By contrast, "alternative medicines" get worse and worse every year, because anything that has an ounce of truth behind it gets refined, improved and turned into actual medicine.
Yet the massive multi-billion dollar industry of medical fraud is stronger than ever, because it promises whatever people want the most. The fraudsters are either completely self-deluded, with illusions of grandeur, or as cold and calculating as any Nigerian lottery scam artist. I don't like seeing these people make a cent from conning decent people, but the general attitude seems to be "oh, it can't do any harm". I beg to differ. "Alternative medicines" do a lot of harm.
"Alternative medicines" kill
There seems to be this odd idea that "alternative medicines" couldn't possibly do any harm because they are natural. Yeah, so are nightshade and foxglove, and they are deadly. Most "alternative medicines" won't kill a healthy person on the spot (or even the most avid fan might learn), except of course they are sold to people with underlying disease, who are exactly the people that can have a fatal reaction against a compound that most of us could take without consequence. One example is royal jelly, touted as a cure-all and sold to asthmatics, yet it can cause fatal anaphylaxis in asthmatics - the target clientele. Acupuncture, harmless, right? Well no, at least 86 people have been directly killed by acupuncture, due to punctured organs, damaged arteries, shock, infection, pneumothorax and haemorrhage. Even new-age rubbish that doesn't involve drugs or needles can kill, such as the pseudo-psychology of "rebirthing" where children are traumatised and occasionally killed.
"Alternative medicines" get in the way of real medicine
Of course, the number of people dying due to acupuncture, rebirthing, royal jelly and the like are a drop in the bucket compared to the number of people who die because they used ineffective "alternative medicines" instead of real medicine. Who knows how many people have died because they stayed home and took aromatherapy instead of going to the doctor? Or they used the "power of crystals" to try to cure that headache for months, before a hopsital visit found that brain tumour too late. Or who replaced effective vaccines with over-priced fruit juices, putting both themselves and their community at risk? I would love to think that the use of "alternative medicine" had no impact on the uptake of real medicine, but we know that is not true - for example people who believe in divine healing are less likely to stay on their HIV medications, certain death for them and a recipie for the generation of antiretroviral resistance HIV strains. Those harmless peddlers of placebos have a lot to answer for.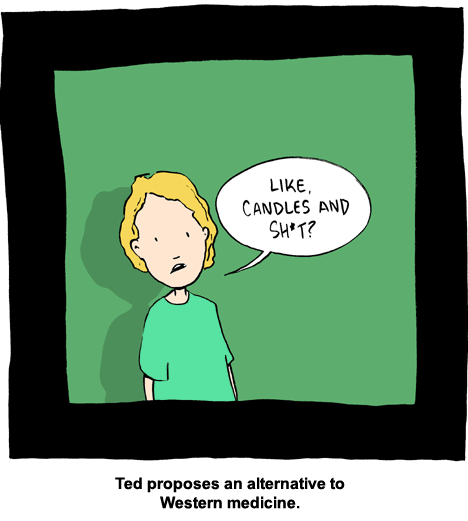 From Saturday Morning Breakfast Cereal